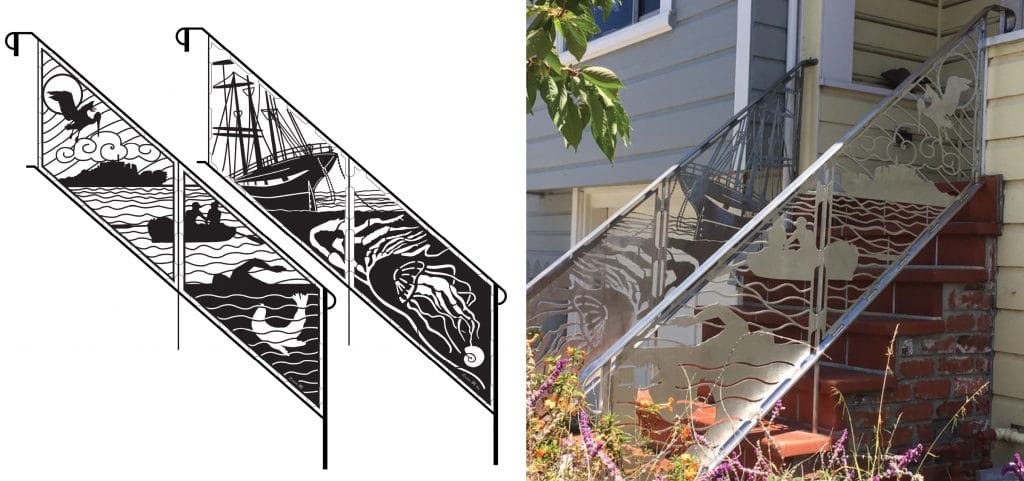 Level Five was commissioned to create a lasting landmark in the Glen Park neighborhood of San Francisco.  The project focuses the talents and strengths of each partner for a beautiful outcome.

The homeowner has a cozy place with a well-done interior, but the generic galvanized railing that came with the house drove her nuts
for many years. She is a strong marathon swimmer "with not an artistic bone in her body" as she describes it. She knew she wanted
marine and San Francisco themes to her railing, but that's where the art direction stopped.

We measured her existing railings and started sketching on the template. Very quickly a design with Alcatraz, a pelican, a rowboat, a
swimmer and a sea lion came together. The opposite railing features the historic ship, the Balclutha, from Hyde Street Pier, some seaweed,
and a giant jelly fish. The design adheres to building codes, and all openings are smaller than a 4" ball.

The design was produced in Adobe Illustrator, and output full-size on paper for test-fitting before handing over the project to Al for fabrication.  The panels were water-jet cut, and the panels given a brushed surface finish, and the frame constructed from heavy gauge tubing, and thick flat bar for the hand rail.  The entire project is made from stainless steel, TIG welded, then passivated.